[content-egg module=AE__amazonin template=list]
[content-egg-block template=price_alert]
Having a blood pressure monitor at your home is helpful to you and your doctor in getting a clear idea of the blood pressure levels. To get the most appropriate results along with a comfortable fit, you need to buy the best monitor. In this article, I am giving you a detailed Omron HEM 7120 Blood Pressure Monitor Review in India. So read the full article…
[wpsm_titlebox title="Contents" style="1″][contents h2][/wpsm_titlebox]
Omron HEM 7120 Fully Automatic Digital Blood Pressure Monitor comes with a bunch of premium features. It detects irregular heartbeat if it varies by more than 25% and also takes note of your previous measurement for health purposes. It accurately measures your blood pressure and pulse rate with easy one-touch operation.
Omron HEM 7120 BP Monitor Specifications
The Omron HEM-7120 is a compact and fully automatic blood pressure monitor,
It operates on the Oscillometric principle for accurate measurements & results.
It measures your blood pressure as well as pulse rate with easy one-touch operation.
Cuff Size: It fits Arm Circumference (22-32Cm),
The device uses its advanced "IntelliSense" technology for comfortable controlled inflation without pressure pre-setting or re-inflation. It can detect even a slight pressure change and thus resulting in most accurate measurement.
Omron HEM-7120 can also detect irregular heartbeat.
It is packed with Body Movement indicator and blinks if your systolic or diastolic pressure is above or below the standard range (above 135 systolic/85 diastolic mmHg)
This product is primarily designed for general household use.
Country of Origin: Vietnam
Inside Box:-
BP Monitor – 1
4xAA Battery pack – 1
Medium Cuff, 22 to 32 cm arm circumference
Instruction manual & Warranty card
(No AC adapter provided. it needs to be purchased separately. However, battery works well for months. But still, it would be a nice add-on.)
Warranty and Services:
Omron HEM-7120 comes with 5 Years Brand Warranty and lifetime support provided by the company. This Automatic Digital Blood Pressure Monitor is guaranteed to meet your standards.
Please read our detailed Omron HEM 7120 Blood Pressure Monitor Review before buying…
Features of Omron HEM 7120 Fully Automatic Digital Blood Pressure Monitor
OMRON HEM-7120 Blood Pressure Monitor is fully automatic blood pressure monitor loaded with enhanced Intellisense technology to deliver accurate measurements with ease of use. This BP machine comes with a Simple One-Touch Operation.
The device measures systolic, diastolic pressure and heartbeat rhythm accurately. Omron HEM-7120 is a compact blood pressure monitor which works on the Oscillometric Principle to measure your BP and pulse rate accurately. Read our Omron HEM 7120 Blood Pressure Monitor Review in India.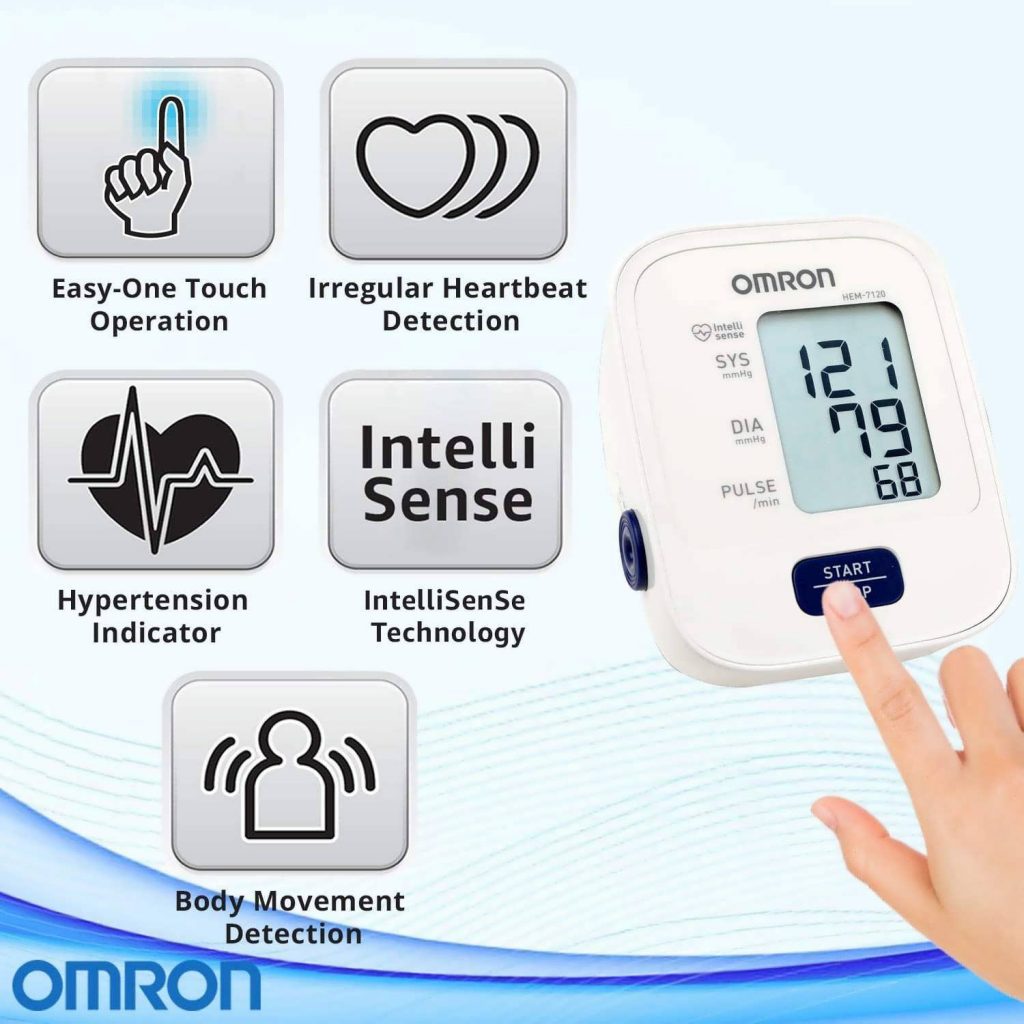 Irregular Heartbeat Detection
An irregular pulse is a heartbeat rhythm that differs by more than 25% from the average heartbeat. This OMRON blood pressure machine detects and shows the irregular heartbeat while measuring the systolic and diastolic blood pressure.
Body Movement Detection
The Digital blood pressure monitor bounds the user to retake measurement when an error is detected due to the movement of the body while taking the measurement. Hence assures you to provide accurate results.
Last Memory
Omron BP machine keeps the last measurement in its memory. Thereby relieving the user from the hassle of manually recording their last measurements.
Very Easy to Use
Digital BP machine has an easy one-touch operation which detects precise and reliable blood pressure measurement. We have written a detailed Omron HEM 7120 Blood Pressure Monitor Review in India. You can read the full article before buying.
Hypertension Indicator
If your systolic or diastolic pressure is above or below the standard range, the heartbeat symbol in the Omron HEM 7120 will blink when the measurement result is displayed.
Enhanced IntelliSense Technology
Omron HEM 7120 BP device is featured with IntelliSense technology. It gives accurate measurement with comfort and ease of use. IntelliSense is a unique technology which monitors the blood pressure machine to inflate and deflate at the optimum level for every individual user.
Advantages of Enhanced IntelliSense Technology
Fully automatic
Personalized inflation for maximum comfort
Quick deflation releases valve for speedy measurement
Omron HEM 7120 Blood Pressure Monitor Review
Hi everyone, in this article, we will give you a detailed Omron HEM 7120 Blood Pressure Monitor Review in India. We will see some of the descriptions of this blood pressure monitor given on the box It includes warranty features, size and manufacturing details of the product.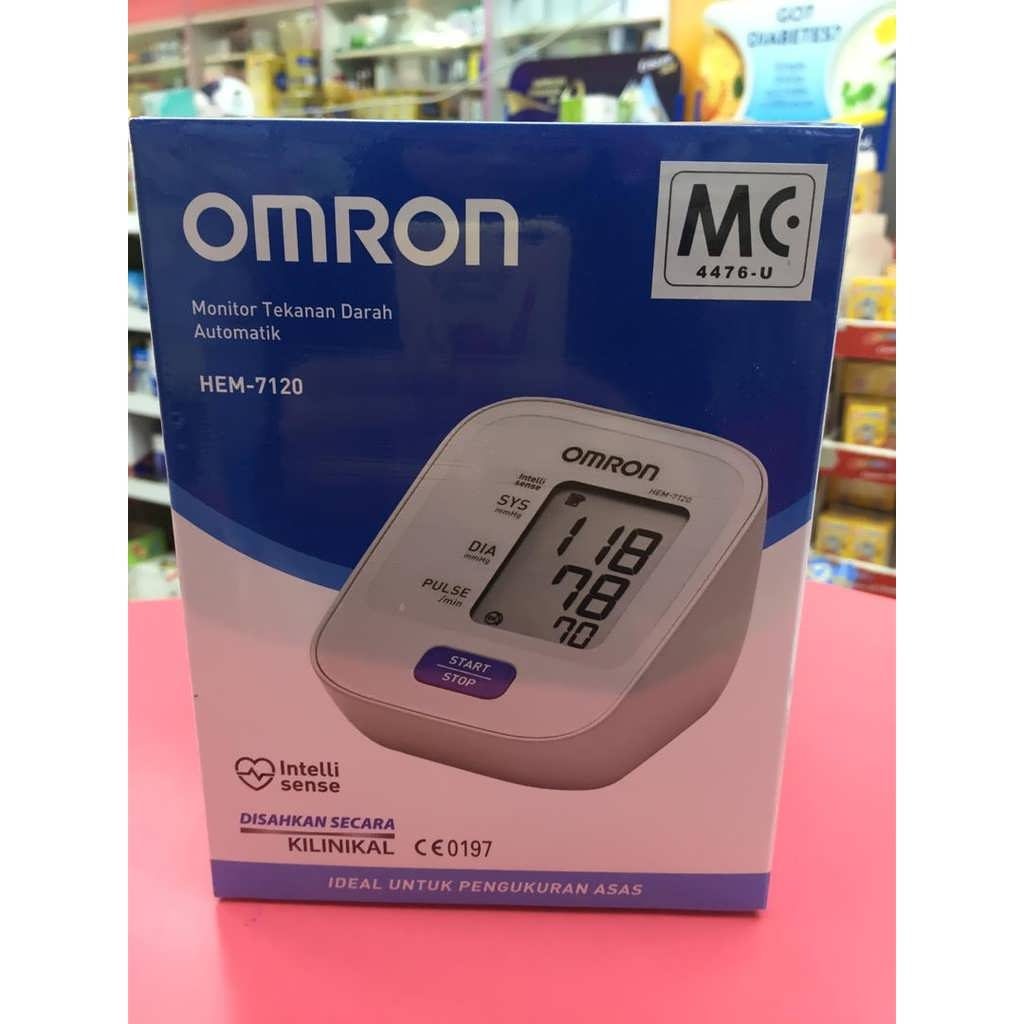 Box Content:
Contents in the box: our blood pressure monitor main unit, arm cuff of medium size, a user manual, a warranty card and a 4AA alkaline batteries.
Features include a cuff wrapping guide indicator if the cuff is wrapped snugly body movement indicator, detection of irregular heartbeat and a hypertension indicator which blinks when the BP is above 135 by 85 measurement range. For blood pressure is zero to 299millimeters of mercury and 40 to 180 beats per minute for a pulse.
This model has a memory of 30 measurements and accuracy of plus or minus 3 millimetres of mercury. For blood pressure and plus or minus 5 percent of the display reading for pulse. Omron has the enhanced IntelliSense feature, in which monitor inflates the cuff to the normal level with each to use & no adjustments are required by the user.
And for people with certain arrhythmia or heart disorders, their blood pressure is likely to fluctuate. The advantage is personalized inflation for maximum comfort. This chart shows a comparison of the features of various BP monitors by Omron. Feature comparison of model reviewed.
Body & Design
Here you will get a detailed Omron HEM 7120 Blood Pressure Monitor Review. You will be seen front side of the main unit has indicators for systolic and diastolic blood pressure pulse. A memory button and a start, stop button.
The back of the main unit which has a lid for AA batteries, which comes out of the box the arm cuff has markings to ease the tying on the arm. It should be tied 1 to 2centimeters above the elbow and at the level of heart, this particular cuff is moderate in size and forearms with a circumference of 22 to 32 centimetres only. For size above or below this range, different size cuffs can be bought separately.
Now we will show you how the cuff should be tied properly so arm has to be put inside the cuff with tube facing downwards and towards the body. Make sure to tie the cuff tight enough so that fingers cannot be inserted between the cuff and the arm. You measurement of blood pressure when the star come stop button is pressed. The cuff will start inflating, do not move your arm or body during the measurement.
To avoid any errors you after the cuff deflates you can check the blood pressure and pulse readings and press the start come stop button again to turn off the monitor. And disconnecting from the main unit you can remove the velcro of the cuff and remove the blue plug from the monitor. If you are done with the measurements make sure you take three blood pressure readings which are 15 minutes apart. And considering the average of the three readings as your final blood pressure.
Omron HEM 7120 Performance
The currently measured blood pressure reading on the main unit this is a close-up view of the display on the monitor. When you press the start button the cuff will start inflating and the pressure shown on the display will start rising. 'Okay' sign indicates that the cuff is tied properly and hafsteinn will blink during the measurement. Down arrow indicates that the cuff is deflating you. Read full Omron HEM 7120 Blood Pressure Monitor Review.
When the measurement is done the readings can be seen this is the systolic blood pressure and this is diastolic blood pressure. And pulse rate viewing the memory for previous blood pressure readings by pressing the memory button. Previous readings will be shown on the screen this is the most recent measurement. And pressing the button again will show reading previous to the shown earlier.
You could see that on 151 systolic blood pressure reading the heart icon is blinking. That means that the blood pressure is higher than 135 by 85. This particular model has a memory of 30 readings display. It has multiple icons which show different types of things like a regular heartbeat movement, error, low battery symbol.
USAGE GUIDE:-
Remove the battery cover and install batteries with the correct polarity.
Insert air plug of the cuff into air jack of the device.
Put cuff loop along the arm as per markings on the cuff with lower edge 1-2 cm from the elbow.
Close the cuff fabric fastener firmly.
Press the start button on the device.
Wait till it inflates and deflates cuff and all three reading are shown.
If any error is displayed, see the user manual for possible cause as per error code chart.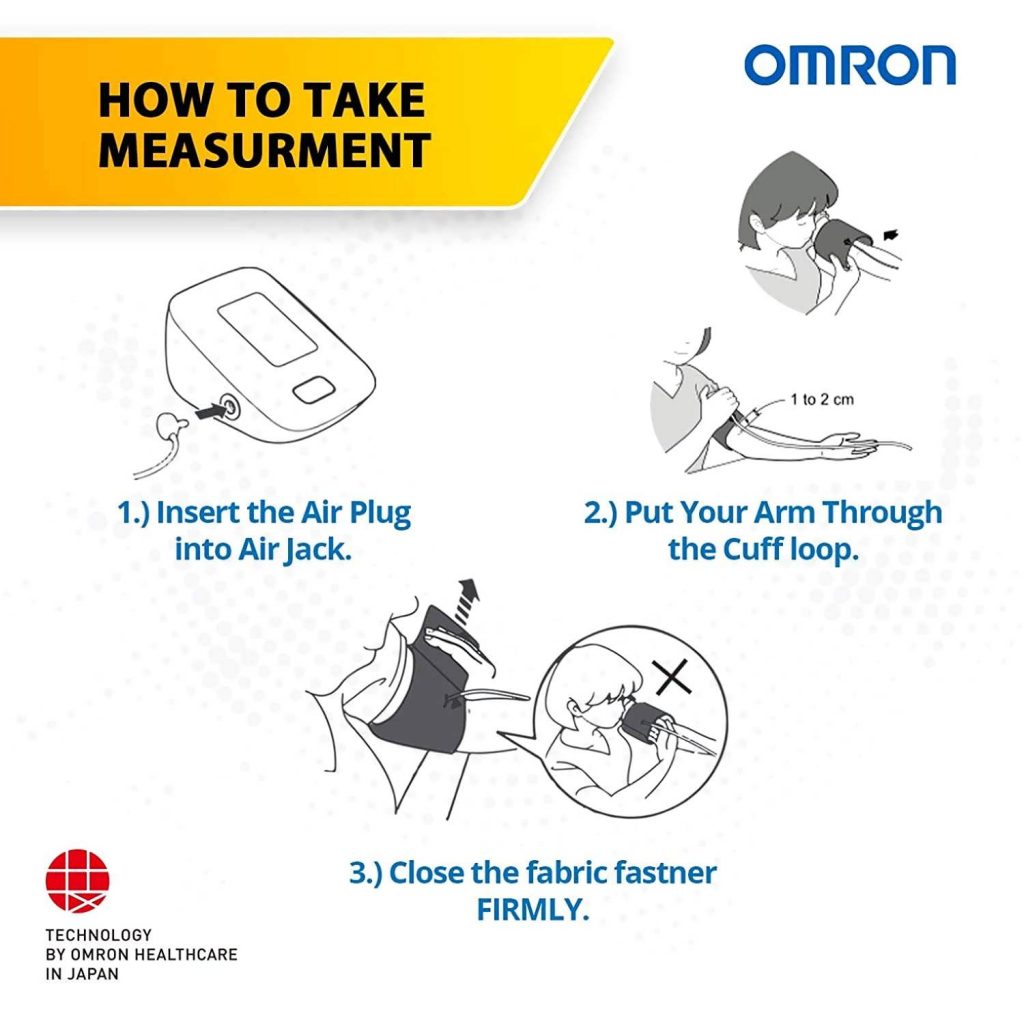 HOW TO TAKE READINGS
Cuff should be applied on the same hand every day, with its lower end approximately 1-2cm above elbow.
When applied, cuff and heart should be almost on the same level.
Use the same arm for reading every day.
Your body must be relaxed while it's working.
Try to use use the same chair or location for reading every day.
Also, try to take the reading on the same time every day
Bathing, alcohol or caffeine consumption, smoking, exercising, eating should be avoided for at least 30 min prior to taking the reading.
Cuff should be closed firmly, neither too tight nor too loose.
Omron HEM 7120 Blood Pressure Monitor Alternative
Omron HEM 7120 is one of the best Blood Pressure Monitor. However, if you want & your budget allows, you can choose from other alternatives also. You can read our detailed Dr Trust BP Monitor Review.
[affegg id=1]
Omron HEM 7120 Blood Pressure Monitor Review