Here is the Best Dr Trust BP Monitor Review you're looking for!
Automatic Blood pressure detectors are one of the finest inventions in this modern era, now people are stressed by work pressure, family responsibilities, and illness this marvellous invention made their life safe and secure. Although there are many monitors, Dr Trust Blood Pressure Monitor has its high image in the market.
Today in this article I am going to give you a fair Dr Trust BP Monitor review, by checking every aspect and features of the product. Reviews with just my words are not buyable, so I have added all the facts and information I collected to prove my review. So this is going to be a detailed Dr Trust BP Monitor Review.
[wpsm_titlebox title="Contents" style="1″][contents h2][/wpsm_titlebox]
Overview of Dr Trust
Dr Trust is a leading company in the health and wellness sector all around the world. It is a US-based company that has its e-commerce store in India. It is well known in India for its innovative and helpful ideas. It deals with a wide variety of products in this health and wellness industry like Home/ Kitchen Digital weighing scale, Massagers – full body, legs, and toes, etc… and other Health related Gadgets.
All its products are manufactured based on the strict regulation of the FDA and recommended by the professional Doctors and experts. Ok, let's get into the Dr Trust BP Monitor Review.
Specifications of Dr Trust BP Monitor
If you need Technical Dr Trust BP Monitor Review then here are the technical specifications of the Dr Trust BP Smart,
Clear Display – The large Zebra light display, with white emission, make them visible in the Black screen. The digits are readable and update every second. There are separate colored or unique lights to notify you if the results are out of normal range.
Automatic and Comfortable – It has a new algorithm and an advanced pumping technology that prevents over pumping and makes the measurement process easy and comfortable.
Vocal guidance- Dr Trust BP Smart has vocal features, that it can update your state by voice in both language English and Hindi. This Dual Talking guidance and Full automation make them easy to use.
In the Box – It doesn't come with any freebies, the box only contains Monitor, battery (not chargeable), conical cuff and user manual.
USB Port – It has multiple peripheral USB ports and 4 AA batteries so easy to move and carry along.
Extra and wide cuffs – The cuffs are adjustable and wide enough to fit around everyone's arms. It can store 120 measurements of the 2 users and they are recallable when needed. The sizes of cuffs are around 22cm to 42 cm.
High-level accuracy – It works efficiently for every individual, the readings are accurate to the user's systolic +diastolic BP + pulse irregularities + heart rate with zero worries quickly.
State-approved – they are manufactured from the patent technology and design of the United States. Approved by USFDA for its high standard, engineered by Nureca INC. The USA, in India. And has 5 years extended warranty.
Special features of Dr Trust BP Monitor
Accuracy, reliability, and usability
The Dr Trust BP smart are appreciated by the experts for its accuracy in readings and certified as highly reliable by many testing teams. And they are easy to use; you measure your systolic BP, diastolic BP, and pulse rate by simply pressing a button.
Display
As per the guidelines issued by the World Health Organization (WHO), it reads the blood pressure of the user and displays them with the high-quality zebra lights.
Vocal Guidance
As these monitors are designed for the aged peoples, they will hinder by poor eye-sight. To overcome this problem they provide dual language talking, sound features. It is the great advantage of this BP Monitor. Voice feedback can also be turned off.
USB charging or Battery
Dr Trust smart says goodbye to all those expensive adapters or other attachments, it comes with the compact and portable USB port. You can charge this device by laptops, tablets, or TV and also with 4 AAA batteries.
Conical Cuffs
With the universal matching conical cuffs of 22 to 42 cm, it can accurately read the pulse, heartbeat of all the persons, and even warrant you regarding further investigation.
Data of two users
It removes the hassle of the manual recording of measurements. It has enough memory space for recording 120 measurements. It can also save the readings of two users separately and recall them easily.
Automation
Most of the process is automated in the Dr Trust Smart BP monitor, the auto power off and low battery indication all are available under a single press button. It also saves the date and time of your recording.
Dr Trust BP Monitor Review
Dr Trust smart BP Monitor is trustable as like the company name. It is an advanced device that has a high capability to help users. The main thing that attracts me is its talking feature. You can enable them while you're exercising, or involving the complex works it will give you command of your stage and also suggests the steps to attain the optimal state.
As this follows the WHO norms, you can see the readings even the dark or dim light with high-quality zebra lights. And the wide covering cuffs with a universal size of 22cm to 42 cm. this makes the best choice for everyone in India.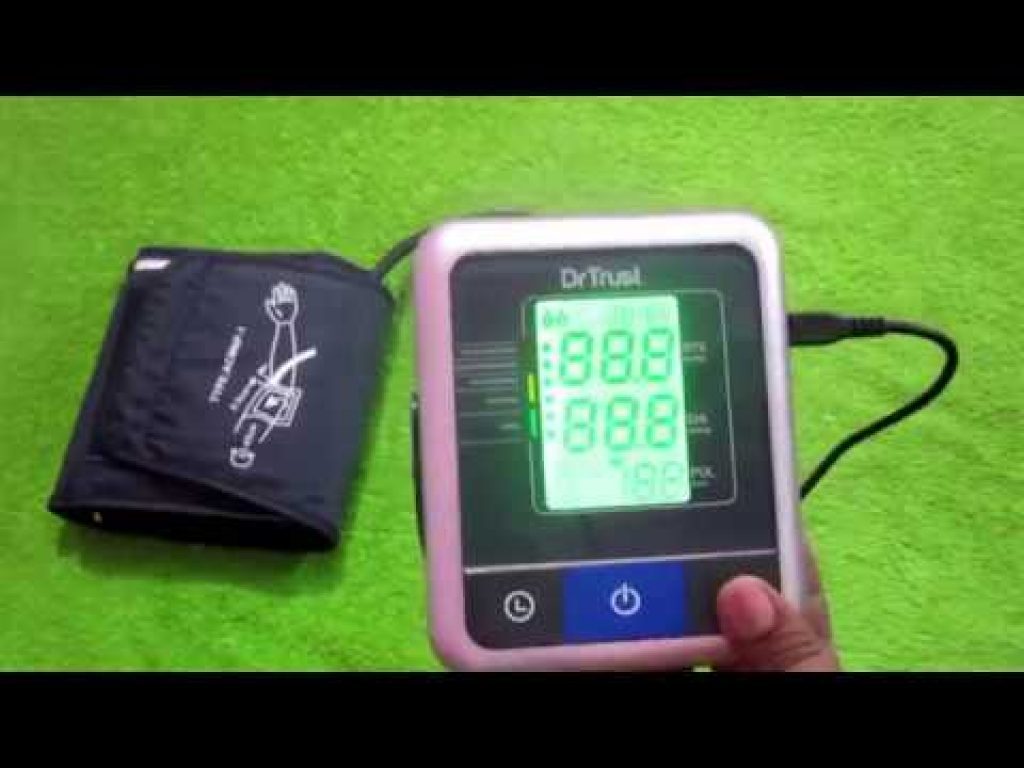 Most of the BP monitor runs in 4 AAA batteries, but this Dr Trust has a special advantage of the USB port, so you can best use them even during the travel. And all of these come with the package or box of the Monitor.
And this automotive feature helps your various ways, like detecting errors, low battery, and the algorithm checks the over pumping. All these features give you accurate readings like in the hospitals.
All your daily recordings or measurements are saved in the memory, later they can be transferred to other devices through USB. The Smart can save up to 120 sessions of two different customers. And you can also encode the details of both users; it gives results according to their health condition and age.
Well, if you see this Dr Trust BP Monitor Review, you can find that Dr Trust provides you their high-end gadget at a reasonable price and with a five-year warranty.
Dr Trust BP Monitor Alternatives
If you want , you can choose from other alternatives also. You can read our detailed Omron HEM 7120 Blood Pressure Monitor Review.
[affegg id=1]
Final Words
Hope this Dr Trust BP Monitor Review have given you a clear idea , if you have any doubt or clarification please ask them in the comment section below. If you are a Dr Trust BP Monitor user please share your experience and your Dr Trust BP Monitor review in the comment section below, so others can learn more from it.
Dr Trust BP Monitor Review